In the News
"Read the latest health and medical information to make informed decisions about your health care concerns."
Dr. Saurabh Khakharia of Georgia, USA is Honored as one of the America's Most Compassionate Doctor
After tallying hundreds of thousands of patient reviews, Dr. Saurabh Khakharia of ,Georgia has been identified as one of our nation's Most Compassionate Doctors.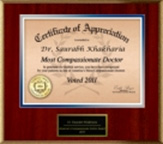 Georgia (PR Newswire) July 1,2012 - Patients' Choice has announced that Dr. Saurabh Khakhariahas been named a Compassionate Doctor honoree for 2011.
In 2011, nearly 100 million patients across the United States used websites including Vitals.com, PatientsChoice.org, and UCompareHealthCare.com to provide feedback about experiences with their physicians, rating them on various aspects of the care they provide.
The Patients' Choice annual Compassionate Doctor recognition program honors the top 3% of U.S. physicians, including Dr. Khakharia, whose patients have gone out of their way to give them the highest possible ratings in the category of bedside manner, while also ranking them very highly in five other categories.
The basis of this award – a doctor's bedside manner score – is particularly important, because it conveys the level of comfort a patient feels. Medical research has shown that the more comfortable a patient is with his doctor, the more likely he is to disclose all important health information and follow a prescribed treatment plan, thus leading to a better outcome.
"While many physicians receive positive feedback from patients, relatively few receive such high praise about the compassion that accompanies their care," said Erika Boyer, Vice President of Consumer Research at Patients' Choice. "We congratulate Dr. Khakharia on this achievement.".
For more information on Dr. Saurabh Khakharia you may visit Dr. Khakharia's profile on PatientsChoice.org or visit the doctor's own website at www.jointandsports.com.
This press release was written by American Registry, LLC with approval by and/or contributions from Dr. Khakharia, and was distributed by PR Newswire, a subsidiary of UBM.
Patients' Choice provides in depth information on doctors in your area who have been recognized and awarded for outstanding patient care and expertise. The Compassionate Doctor recognition is the honor roll of physicians who have received the highest bedside manner and overall ratings by their patients.
American Registry, LLC, recognizes excellence in top businesses and professionals. The Registry™ includes over 2 million significant business and professional recognitions. For more information, search The Registry at http://www.americanregistry.com. An exclusive recognition plaque designed to commemorate the doctor's honor is shown here.
Contact Information:
Dr. Saurabh Khakharia
Dr. Saurabh Khakharia of , Georgia is Honored for Compassion
Source: American Registry and Patients' Choice on behalf of Dr. Saurabh Khakharia